Install your rack in a few easy steps.
Step 1.
Before you start
Make sure you have the right tools:
1. A socket set (ratchet) or drill with ¼" hex head
2. 3/16" wood drill bit (recommended)
3. Pencil
4. Level
5. Stud finder
What is included with your base :
Subplate (x1)
Main plate (x1)
Washers (x4)
Lag bolts (x4)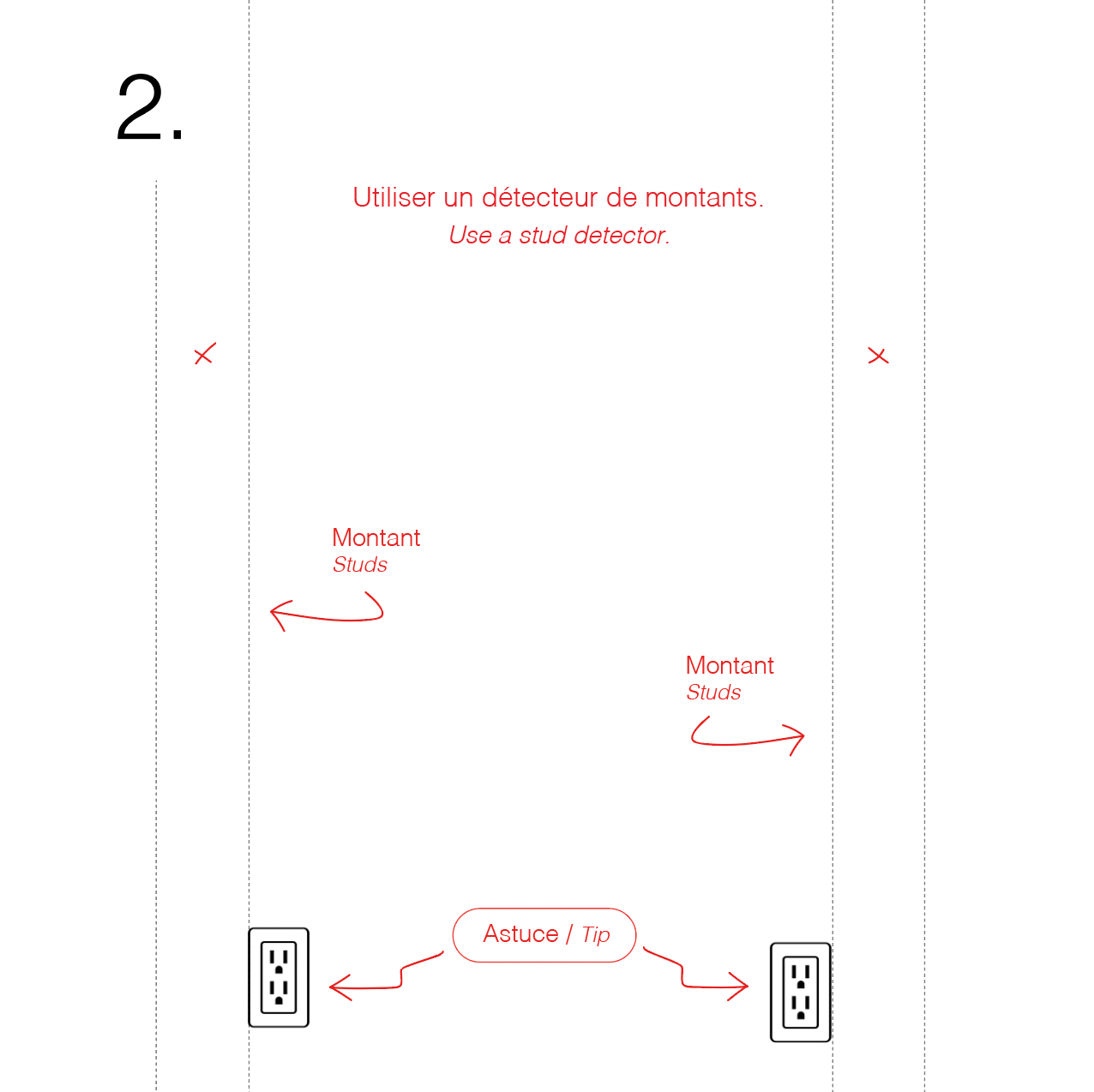 Step 2.
Find the studs
1. It is imperative to screw the support into studs, not just into the drywall.

2. Use a stud finder to mark the center of the studs directly on the wall with a pencil.


TIPS

Electrical outlets are usually installed
directly on the sides of the studs. Locate an outlet and most of the time you will find a stud.
Step 3.
Install the subplate
1. Take the subplate and align it with the previously found studs

2. Position the subplate perfectly horizontal with the help of a level

3. Mark with a pencil the location of the 4 support lag bolts. These must be directly in the center of the studs.
We recommend that you pre-drill the 4 lag bolts locations using a drill and a 3/16" drill bit. This will make the installation of the lag bolts much easier.

4. Insert a washer on each lag lag bolt and screw securely using the hex head on a drill or a ratchet wrench and the appropriate socket.

5. Before proceeding to the next step, make sure that the subplate is still level and that all screws are
securely anchored.
Step 4.
Install the main plate
1. Take the main plate and place the curved part on top of the subplate

2. Slowly slide the main plate horizontally to find the center of the subplate

3. Once it is centered, firmly push the main plate with
both hands towards the wall

4. When you hear a clear "click": your rack is ready to be used as you wish!